3.0 years ago
@EagleEye12958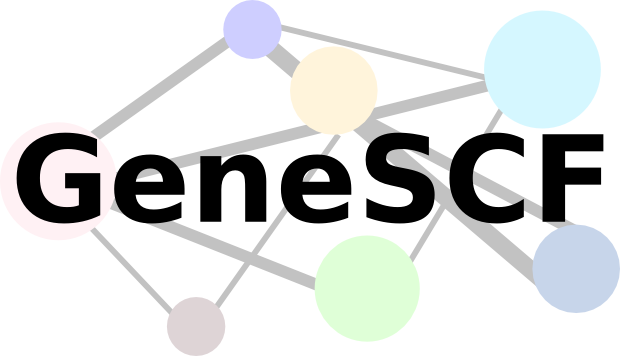 |
Gene Set Clustering based on Functional annotation
---|---
====================================================================== GeneSCF serves as command line tool for clustering the list of genes given by the users based on functional annotation (Gene Ontology, KEGG, REACTOME and NCG 4.0). It requires gene list in the form of Entrez Gene IDs or Official gene symbols as a input. GeneSCF supports multiple organisms from V1.1. Examples to download database as simple text file using GeneSCF "prepare_database" module, 1) [E.coli][1] 2) [Sheep][2] , 3) [General usage][3] The advantage of using GeneSCF over other enrichment tools is that, it performs enrichment analysis in real-time (v1.1 and above) by accessing source databases. With command-line versions of tools, as you know you can run multiple gene list simultaneously. [Please follow GeneSCF news section on Biostars][4] or

to get latest updates on GeneSCF . ====================================================================== Home page:
http://genescf.kandurilab.org/
Requirement:
GeneSCF only works on Linux system, it has been successfully tested on Ubuntu, Mint,Cent OS and Windows 10 bash (version 1607). Other distributions of Linux might work as well.
Documentation:
http://genescf.kandurilab.org/documentation.php
Cite using:
Subhash S and Kanduri C. GeneSCF: a real-time based functional enrichment tool with support for multiple organisms. _BMC Bioinformatics_ 2016, 17:365, http://www.biomedcentral.com/1471-2105/17/365
Report issues in Biostars or GitHub Project page. Please check FAQs before reporting.
Discussions on Biostars
https://www.biostars.org/p/201966/
More .... https://www.biostars.org/local/search/page/?q=genescf
|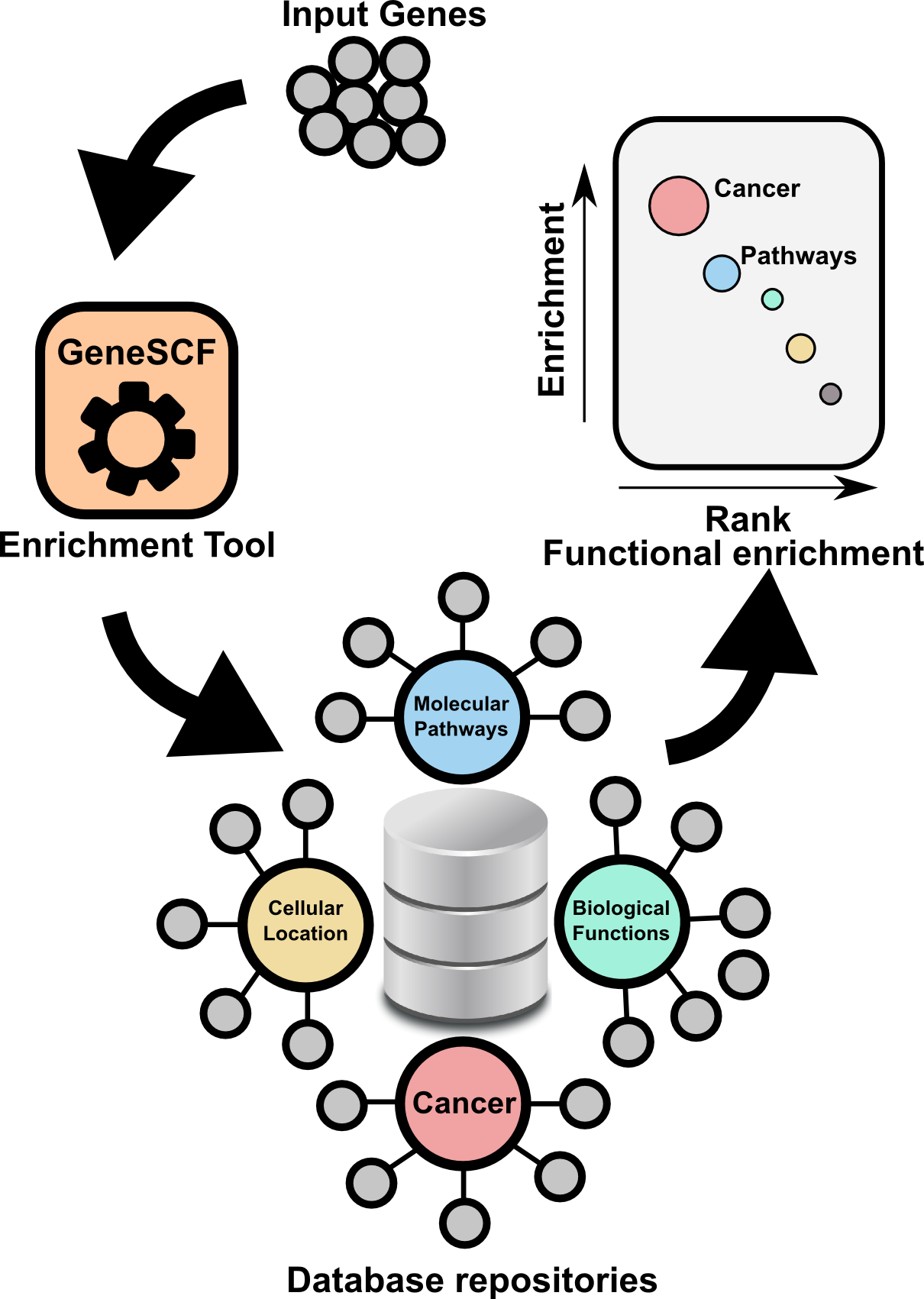 ---|---
====================================================================== Advantages - Real-time analysis, do not have to depend on enrichment tools to get updated. - Easy for computational biologists to integrate this simple tool with their NGS pipeline. - GeneSCF supports more organisms. - Enrichment analysis for Multiple gene list in single run. - Enrichment analysis for Multiple gene list using Multiple source database (GO,KEGG, REACTOME and NCG) in single run. - Download complete GO terms/Pathways/Functions with associated genes as simple table format in a plain text file (Check "Two step process" below in "GeneSCF USAGE" section). ====================================================================== Get organism codes for GeneSCF run KEGG: Second column from the following link. For human 'hsa' and Mus Musculus 'mmu'. http://rest.kegg.jp/list/organism Gene Ontology: Use "id" from the following link. Example for human "goa_human" and "mgi" for Mus Musculus. http://www.geneontology.org/gene-associations/go_annotation_metadata.all.json ====================================================================== Comparison (updated on Tue Jul 26 16:01:08 CEST 2016) ![enter image description here][7] [For more comparisons please check GeneSCF article (Fig. 6).][8] ====================================================================== GeneSCF USAGE Example (using GeneSCF v1.1 and above) I will use example for Mus musculus assuming you got Entrez geneids, Single step process, Gene Ontology - Biological Process (Downloading current available database for Mus Musculus from Gene Ontology + enrichment analysis) >./geneSCF -m=update -i=INPUTgene.list -t=gid -db=GO_BP -o=/ExistingOUTPUTfolder/ -org=mgi --plot=yes --background=15000 The above command downloads complete GO db as simple text file in following location, 'geneSCF-tool/class/lib/db/mgi/' and also do enrichment analysis parallel. The results for enrichment analysis can be found in folder 'ExistingOUTPUTfolder'. No need for running update mode for consecutive runs since GO database for Mus musculus got updated when you use 'update' mode on first run. Gene Ontology - Cellular Component >./geneSCF -m=normal -i=INPUTgene.list -t=gid -db=GO_CC -o=/ExistingOUTPUTfolder/ -org=mgi --plot=yes --background=15000 Gene Ontology - Molecular Function >./geneSCF -m=normal -i=INPUTgene.list -t=gid -db=GO_MF -o=/ExistingOUTPUTfolder/ -org=mgi --plot=yes --background=15000 Gene Ontology - Complete (BP+CC+MF) >./geneSCF -m=normal -i=INPUTgene.list -t=gid -db=GO_all -o=/ExistingOUTPUTfolder/ -org=mgi --plot=yes --background=15000 -------------------------------- Two step process, Downloading current available database for Mus Musculus from Gene Ontology >./prepare_database -db=GO_all -org=mgi The above command downloads complete GO db as simple text file in following location, 'geneSCF-tool/class/lib/db/mgi/'. Gene Ontology - Biological Process >./geneSCF -m=normal -i=INPUTgene.list -t=gid -db=GO_BP -o=/ExistingOUTPUTfolder/ -org=mgi --plot=yes --background=15000 Gene Ontology - Cellular Component >./geneSCF -m=normal -i=INPUTgene.list -t=gid -db=GO_CC -o=/ExistingOUTPUTfolder/ -org=mgi --plot=yes --background=15000 Gene Ontology - Molecular Function >./geneSCF -m=normal -i=INPUTgene.list -t=gid -db=GO_MF -o=/ExistingOUTPUTfolder/ -org=mgi --plot=yes --background=15000 Gene Ontology - Complete (BP+CC+MF) >./geneSCF -m=normal -i=INPUTgene.listt -t=gid -db=GO_all -o=/ExistingOUTPUTfolder/ -org=mgi --plot=yes --background=15000 The results for enrichment analysis can be found in folder 'ExistingOUTPUTfolder'. --------------------------- The above mentioned parameters should be changed according to your data (following can be altered), >-t=sym (for Gene Symbol as input list) >-t=gid (for Entrez Geneid as input list) >--background=#NUM (Use the total number of background genes from your dataset, example you can use total number of protein coding genes with detectable expression level irrespective of their significance or if it is transcriptome/Genome wide study you can use total number of annotated protein coding genes as background) More information please refer documentation, http://genescf.kandurilab.org/documentation.php ====================================================================== Instructions for running batch analysis (Supported above GeneSCF v1.1 patch release 2 - GeneSCF v1.1-p2) - Edit script './geneSCF-master-source-v1.1-p2/geneSCF_batch' for your input files (files_path) and output path (output_path). >files_path="/FOLDER/WHERE/GENE_LISTS/STORED" >output_path="/FOLDER/PATH/FOR/OUTPUT" - Edit file './geneSCF-master-source-v1.1-p2/db_batch_config.txt' to configure your parameters for batch run. - Execute [genescf_path]/geneSCF-master-source-v1.1-p2/geneSCF_batch. ---------------------- >Note: >- Recommended to keep all input files in same folder. >- Inside specified output folder path GeneSCF will automatically create individual sub-folders for each gene list. ====================================================================== [1]: https://www.biostars.org/p/231384/#231579 [2]: https://www.biostars.org/p/197414/#197416 [3]: https://www.biostars.org/p/191532/#191540 [4]: https://www.biostars.org/p/231707/ [5]: http://genescf.kandurilab.org/ [6]: http://genescf.kandurilab.org/documentation.php [7]: http://genescf.kandurilab.org/ftp/comparisons/GeneSCFv1.1_comparison_new_thumb.png [8]: https://bmcbioinformatics.biomedcentral.com/articles/10.1186/s12859-016-1250-z